The Heifetz Legacy
by Julie Tebbs
This month's article is an excerpt from "
Jascha Heifetz Through My Eyes
" used with permission from the author, Sherry Kloss, with our sincere thanks. The life and talent of Jascha Heifetz lives on through Ms. Kloss and others who continue his work.
"The Jascha Heifetz Master Class usually [consisted of 4 to 8 students and] met on the second floor of the Virginia Ramo Music Building of the University of Southern California every Tuesday and Friday from 11:00 a.m. to 4:00 p.m. throughout the academic year.
"As each of us entered the room, Mr. Heifetz greeted us with his piercing, seemingly all-knowing eyes and said, 'Good morning.' I was to learn that his scrutiny and greeting were both part of his sincere concern for the well-being of each of his students. I later came to understand that Mr. Heifetz usually knew the emotional state of each one of his students at any given moment. It was no use to avoid eye contact when he greeted us or to try to conceal our feelings or problems from him. The result of his careful scrutiny was that he knew what to expect from each of us.
"Then, when he was ready to begin, he asked, 'Who's ready?'
"It was all part of his plan. Mr. Heifetz did little, I was to learn, that was not carefully calculated to produce results from his students. 'Ready,' to Mr. Heifetz, meant the ability to exhibit a level of understanding of the music, its style, its lilt and its message. He did not necessarily expect perfect playing nor was he impressed by excessive display of temperament. In his teaching he devoted himself tirelessly and, yes, sometimes abruptly, to accomplishing these qualities. He knew after just a few notes whether or not a piece was 'ready.'
"I was stunned by the question, 'Who's ready?' In my heart I never felt ready. I became involved in an intellectual struggle to understand what 'being ready' meant. When is one ready? How is one ready? What is ready? Can anything ever be 'ready' to present to Jascha Heifetz? Defining the word was to become, for me, a pervasive philosophical question like, 'What's life all about?' or 'Why do we exist?' The question 'When am I ready?' would haunt me for many years.
"Near the end of [one] class he asked me to play. I had nothing new to present to him, but his sincere interest in my work demanded that I play something. So after a few moments of consideration, I stood up, unpacked my instrument, and played the Chopin-Sarasate B-flat Nocturne.
"After the last note, he said, "Not bad," and began to get up from behind his desk. This usually meant that he was planning to make some suggestions for fingering of phrasing, or that he would demonstrate a few notes.
"Still in the midst of my philosophical struggle, I blurted out, 'It's just that I don't know when something is ready.'
"Mr. Heifetz looked at me with his large, probing eyes and responded in a tone of voice that let the whole class know he was perturbed. 'Well, Sherry, if you don't know, then perhaps you had better take up another profession. Class dismissed.'
"I felt as if the wind had been knocked out of me by the blow that those words had struck. I was doing what I loved to do, making musical notes come to life, and yet my teacher's assessment of my personal doubts gave me everything to think about. Was he just being kind to me in his own way by calling attention to my own misgivings? Or had I failed to recognize a real concern emanating from my teacher during these last few minutes? His comment had startled and befuddled me. I quickly packed up my violin and music. Then I grabbed my raincoat, hoping for a quick exit.
"Sneaking past the large desk where Mr. Heifetz had returned to sit down, I tried to exit the room hidden among the others as they bid their good-byes for the weekend.
"'Sherry,' I heard him say. I cannot explain the shame that gripped me.
"He waited mercifully until the classroom had emptied and then said, 'I don't like what I saw today. If you don't have confidence in yourself, how do you expect others to have confidence in you? I want to see improvement in this area. Good-bye, Sherry.'
"His eyes never left my own, which were filled with tears.
"Despite my juggling the rigors of being a performer and student, and despite my soul searching about 'being ready,' and despite the uncertainties of being a 'freshman' in the demanding Heifetz Master Class, I survived the [first] year. I better understood what was required in the class and learned a prodigious amount, not only about the music that lived behind the notes, but also about the way in which inspired teaching implores students to become their own best teachers. In a few short months Jascha Heifetz had changed my life, and his influence upon me had only just begun."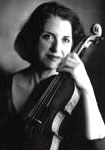 In 1980, Jascha Heifetz appointed Ms. Kloss as Master Assistant in charge of his world renowned violin class at the University of Southern California. She held this position until the death of the master in 1987. Mr. Heifetz confirmed his belief in Sherry Kloss by bequeathing to her the Tononi violin with which he made his famous Carnegie Hall debut in 1917. It is upon this historic instrument that she now performs. Her recordings have received national recognition evidenced by major critical acclaim. Buy her book, 'Jascha Heifetz Through My Eyes.'